Minister's Moments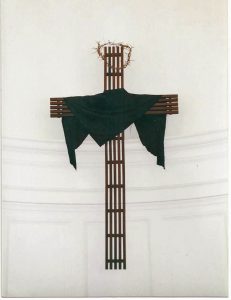 Moving from March into April is a confusing time. Although the calendar says spring, there are still some cold mornings when I want to warm up the car before getting in it. Hopefully, the snow is finally gone for the year, but most days I still need my winter coat. No wonder that some of us are still holed up in the winter doldrums!
I can see signs of spring though. I can see my backyard grass. It even looks green. I can see buds on the trees and hear birds chirping in the morning. Signs of new life and new beginnings abound.
In church we are in the season of Lent – that somber, introspective time of preparation before experiencing the joy of Jesus' resurrection.
Ever notice that the light seems brighter after being in the dark. The sun feels a little warmer – after experiencing a long cold spell. Joy seems, well,more joyful, after a time of sadness.
The disciples must have been in such a dark place after their Lord was crucified and laid in that tomb for a couple of days. It was so dark that they forgot Jesus' promise that he would rise on the third day. They were filled with fear and despair. Yet Jesus did indeed keep his promise and changed the lives of the disciples. Not that they never had any more fear or doubt –there was plenty. But always hope before them and new meaning and purpose.
The news of the Resurrection brings new life and purpose for us also. It reminds us of new beginnings and second chances. It reminds us of how much God loved the world.
It is my hope that you might make some time to join us for the readings during Holy Week so that you can more fully appreciate the joy of Easter morning. Come, hear the teachings of Jesus. Walk with him on the road to Calvary. Maybe even spend some time at the tomb. Then really, really experience the joy of Easter morning. It is a gift for us all.
May you have a blessed Easter!
Peace and grace,
Pastor Pat